One of the easiest ways to pick a lock is to "bump" it. Even here at Panda Locksmith, we use the lock bumping method to open a lock if a key is not present from time to time.
The action forces the lock pins to move to their sheer line. Add just a touch of torque and your Chicago locksmith can get you back into your home if you've locked yourself out.
Someone with ill intent can do a simple search online and find out how to perform this technique. Without extra precautions taken, 90% of home locks are susceptible to this simple method of entry.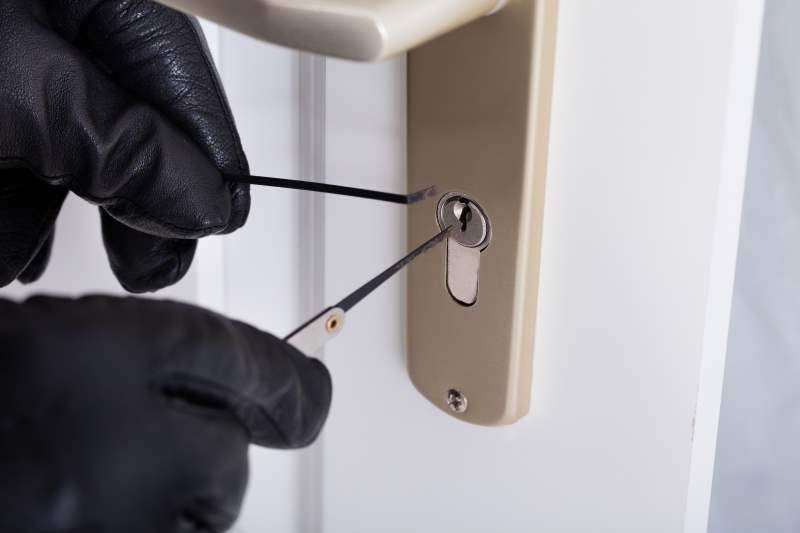 This lock picking method often leaves no sign of forced entry as well.
As a basic rule, each lock on your door can provide you up to 1 minute of security when someone is trying to break into your home.
Thankfully, there are steps that can be taken so you can protect yourself and improve the safety of your home from lock picking. Here is what you'll want to do.
Four Steps You Can Take Right Now to Improve Your Security
1. Inspect your current locks – Many deadbolts have bump protections built into them already. A lock that uses side bars, which can be programmed, instead of top pins are also resistant to bumping. Locks that do not contain springs, such as disc tumbler locks, are usually resistant to this type of attack. Some locks use shallow-drilled pins or trap pins to prevent a bump key from being used. Many deadbolts are either bump-resistant or pick-proof.
2. Talk to your local Chicago locksmith – You can bring your locks to Panda Locksmith if you're concerned about their vulnerability to lock picking. Our locksmiths can install pins that make it more difficult for a bump key to work in the lock. We also offer several high-security lock solutions and can install them at your home during a time that is convenient for you. If you don't want to bring the locks to us, we can also perform an inspection at your home and provide you with an estimate to upgrade your locks, if you wish.
3. Install commercial-grade locks in your home – If you're looking to upgrade your locks, consider the heavy-duty locks that businesses use throughout Chicago. Commercial-grade locks are naturally resistant to lock picking and designed to be a solid security solution.
4. Upgrade to a high-security solution – Sometimes "bump resistant" isn't good enough. In that instance, we recommend installing Mul-T-Lock products in your home. These locks are resistant to multiple forms of lock picking and withstand other forms of attack as well. Installing high security locks will also restrict key making access to your locks, which adds another layer of security to your home.
Take Action Today to Improve Your Lock Security
Someone with ill intent and a bump key can make quick work of a cylinder lock. Lock picking will always be possible as long as a key or a passcode is required, but you can make it extremely difficult for someone to be successful. If you're concerned about your security, call Panda Locksmith and we'll discuss the best options available to better protect your home from burglars.