Locking your keys in the car will always be inconveniencing whether it happens at home or at work. Whenever you are faced with such a lockout situation, the first thing you need to remind yourself is that there is a solution to it. Rather than taking drastic measures such as attempting to break into the car, simply give us a call and we will come to your rescue. No matter the time of the day, we offer emergency auto lockout services hence feel free to contact us any time you can't gain access to your car.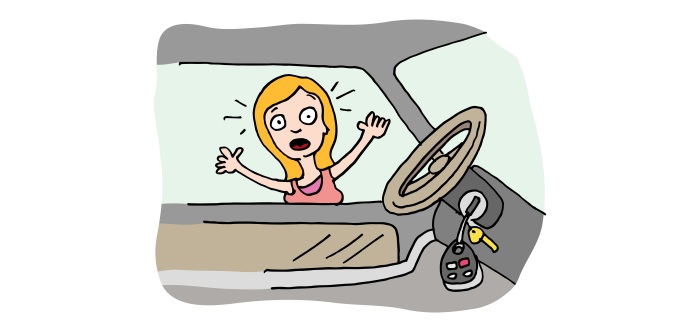 Panda Locksmiths offer a wide range of emergency residential and commercial services for trucks, vans and cars to the residents of Chicago and the suburbs of Illinois. We have experienced technicians who are well versed with the locking mechanisms of all vehicle types including the hi-tech sports car that are currently being introduced into the market. With the knowledge and the experienced possessed by our team, therefore, we can guarantee that no kind of car lockout situation is too big for us.
What to do when you are locked out of your car
Whenever you discover that you have locked your keys inside your car or you can't find them for one reason or the other, the best course of action is pick up your phone and call Panda Locksmith Services.
During such moments, what you desire most is speed and efficiency and this is exactly what we will be offering you. Once we receive your call, we will dispatch our mobile response team closest to you to come immediately and help you get back into your car. For most of the times, it only takes about fifteen minutes to reach your location if you are in the Chicago area and the suburbs of Illinois. Therefore, have peace of mind knowing that help is just fifteen minutes away.
Car lockout services by Panda Locksmiths
With the skills, expertise and the experience possessed by our team, we are able to offer a wide variety of car lockout services. They include but not limited to-:
Vehicle lockouts – This is when you can't gain access to your car completely. Perhaps you have locked your keys inside the car or you have lost them. We will use the skills and the tools we have to open the door without tampering with the door or the lock mechanism.
Trunk opening – In a similar manner, we offer trunk opening services if your trunk suddenly refuse to open.
Duplicate key creation – by having a duplicate key, you can save yourself from the discomfort of car lockouts. Once we open the car doors, we can create a duplicate key onsite so that you can have an option the next time you experience a lockout.
Transponder key programming – transponder keys are prone to malfunctioning thus leading to car lockouts. We offer transponder key programming for all types of vehicles including the high end sports cars.
Extraction of broken keys – your key accidentally broke in the door lock or ignition? No need to worry, simply give us a call and we will extract the broken component and provide you with a new replacement.
Other than offering emergency car lockout services, we also have a whole range of auto locksmith services. These include remote replacement for cars, ignition switch issues, ignition replacement, key cutting as well as high security keys and smart keys. Feel free to contact us whenever you find that you can't gain access to your car or when having any other locksmith related issue with your car. We are here to offer help.