Every home needs a basic fire escape plan. If a fire should occur, being able to get out of the building will depend on receiving an advanced warning from your smoke alarms or home security equipment and the planning which you do with your family.
Part of the planning process must include the door locks and other forms of security which are used to prevent unauthorized entry into your home. Your Chicago locksmith can help you install products which have emergency release devices so they can be opened immediately in an emergency.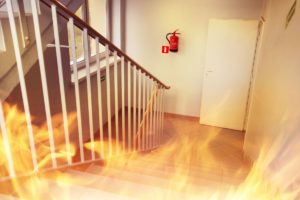 What Else Do You Need to Know About Fire Escapes?
A fire escape is more than a plan. It is also a route that is used in multi-story buildings to escape during an emergency. Make sure that you know of two potential routes of leaving your home, including an outside fire escape. Then you'll want to keep these 5 tips in mind.
1.  Never use an elevator during a fire.  An elevator should never be considered one of your two escape options. Always use stairs to get out of a building. If someone struggles to go down stairs, especially when using an older outdoor fire escape, then you'll need a contingency plan for this circumstance.
2. Make sure to stay low. The smoke from a fire is toxic, no matter what building happens to be your home. When escaping, you'll want to make sure that you stay as low as possible so that you can go underneath the smoke. If both of your escape routes are filled with smoke, it is often better to stay in your apartment and wait for rescue there.
3. Metal outdoor fire escapes have their own safety hazards. Many outdoor fire escapes are not fire-rated, made from a decorative cast iron product. There is also the potential of falling while descending, which happened to actor Kyle Jean-Baptiste in 2015. Make sure you have footwear and clothing which will not increase your risk of an injury while trying to escape from the fire close to the escape.
4. Have your escape routes clear. If you have items that are blocking windows or doors in your home, then it is important to keep them clear so you can escape should there be a fire. Then practice going through your fire escape routes at least twice per year, though once every 3 months is often a better option.
5. Use a lock that gives you confidence. Searching for a key during an emergency or trying to remember a specific passcode can delay or prevent your escape. Your locksmith in Chicago or your hometown offers integrated deadbolts and other locks that feature an emergency release mechanism which can be installed at your fire escapes. Maglocks and egress timers may also be suitable for improving your home security and safety.
What Are Your Fire Escape Options?
When there is a fire emergency in your home, time matters. You must have confidence in your fire escape plan and the equipment that helps to keep you safe throughout the year. At Panda Locksmith, we offer a wide range of locksmith services that can help any household have the tools they need to survive a fire.
Take the time today to devise a fire escape plan if you have not done so already. Then talk to your Chicago locksmith about how you can upgrade your security at the same time.