Running a successful business implies dealing with security problems on a daily basis. Regardless of the size of your commercial property, you should always consider taking preventative measures to protect your business from intruders and vandals. You should bear in mind that business security is a matter of high priority. Thanks to advanced technology, you can apply only the most effective methods of how to protect your business property. There are several important points you need to take into account while thinking about commercial building security.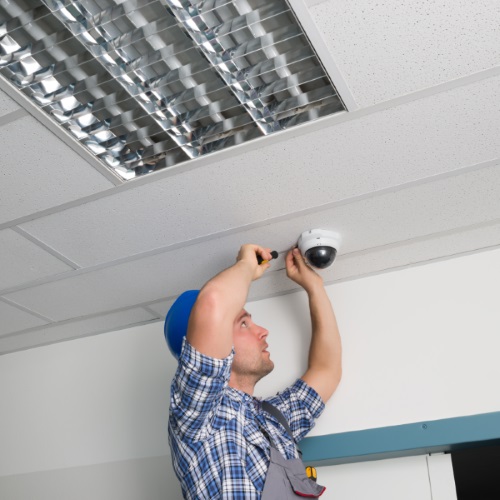 The Usage of Security Camera Systems
The installation of commercial CCTV control equipment will definitely help to enhance the security level of your property. With a security camera system, you will be able to observe what is going on inside your premises as well as outside them. When you install a surveillance system, you will have a chance to prevent crimes from happening or record criminal activity in case of unwarranted intrusions.
What's more, CCTV cameras can be used not only to keep records of thieves' deeds but also monitor the behavior of workers. There are different kinds of cameras according to their purpose. You may need small ones in offices to monitor employee performance and the big ones that are easily visible outside the building to deter burglars. Our Panda Locksmith technicians provide a wide range of security camera systems in Chicago. We will be glad to assist you with the setup of the security monitoring devices you may need.
High Quality Locks & Master Key Lock System Installation
One more thing concerning your commercial belongings security you need to think over is the installation of high quality locks. Due to the rapid development of technology, there are many kinds of locks available and you may choose the ones that will be the best for you.
What's more, you can also use a master key system that will definitely be very useful if some of the office keys are lost or you just need immediate access to the particular office. Having a master key is convenient and practical because you don't need a large number of spare keys and don't waste time looking for the exact key to fit a specific door.
Panda Locksmith specialists will help you to select a master key system and proper locks and the that will enhance the security level of your business premises. We will also assist with lock installation and repair in your commercial building in Chicago.
Burglar Alarm System & Fire Alarm System Installation
A burglar alarm system is also an essential component of keeping your business secure. A monitored burglar alarm system is made to detect unauthorized entrance to the building. With two-way monitoring process, the monitoring station will notice the accident in your place of business. It is a good possibility to ensure the safety of your employees as well as your premises. Consider upgrading your burglar alarm system to feel totally secure.
It is also extremely important to protect your commercial property from fire. There are always guidelines different kinds of businesses are to follow; thus, you will definitely need professional help to install a fire alarm system that is appropriate for your premises. Once you have a fire alarm system installed, you should check out its operating rules and regulations. If you already have one, make sure that it works appropriately.
Talking about the security of commercial property, you should mind the fact that it is always better to prevent security problems than deal with them. Don't leave your safety to chance! Take preventative measures today and feel safe tomorrow. Think about the usage of security camera systems and the installation of advanced locks. Don't forget to check your burglar alarm and the fire alarm systems. Contact Panda Locksmiths to get the best business security solution possible.