What would happen right now if you happened to lose your keys?
The modern set of car keys can be very expensive to replace. Manufacturers are using "smart" keys for new makes and models, having them programmed specifically to a vehicle. Losing your keys means having spending hundreds of dollars on a car key replacement from any Chicago locksmith.
A lost set of keys wasn't always this expensive, which means a smart key replacement can offer some sticker shock to new vehicle owners. There are some steps you can take to prevent these costs from occurring or reducing the cost of a potential replacement.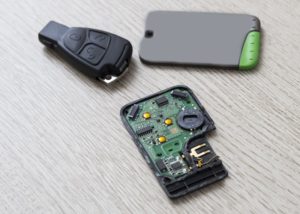 Do You Need to Have a Smart Key Replacement?
Let's say you locked your keys in your trunk. There's no backseat access to them. Do you really need to spend up to $500 on a new replacement key? Not necessarily. Many manufacturers allow for the trunk to be accessed by a "non-smart" key, which will open the lock for you, but not allow the new key to start your car. That's an easy way to save some cash.
Here are 5 more things to know about a smart key replacement.
1. Know your code. Every smart key is programmed with a specific code. If you happen to know this code and can tell your Chicago locksmith what it is during a service call, then you can often save $50-$100 on your smart key replacement. Treat this code as a valuable item. Lock it into a fire-rated safe or keep it hidden from view at the very least to avoid having someone else program a replacement key without authorization.
2. Not all ignition systems are the same. Some vehicles use RFID systems and a keyless start, using a fob as the "smart key." Other vehicles use an actual key that transmits a code to the vehicle so that it will start. Letting your locksmith in Chicago or your hometown know your make and model of vehicle will let them be able to quickly determine what type of smart key replacement may be necessary.
3. You don't always need to go to the dealership. At Panda Locksmith, our team can duplicate a smart key for your vehicle in most circumstances. Our locksmiths can create and program a key for you on the spot and often do so faster than the services you'll receive at the dealership. If you've lost your keys, the dealership may even require you to tow your vehicle to them. That's something your Chicago locksmith won't require. We'll come to you.
4. Many automobile insurance policies can cover the cost of a smart key replacement. With the high costs of a smart key replacement on some vehicles, auto insurance companies have begun including a replacement in certain policies. Check with your local agent about this possibility.
5. The costs mentioned for a replacement don't include labor. That is why hiring Panda Locksmith for a smart key replacement is your best option. Our pricing is fair and competitive, even when using our emergency locksmith services.
Have You Protected Your Smart Keys Today?
With the cost of a smart key replacement so high, now is the time to take proactive measures to prevent losing your keys. Keep your programming code in a safe place. Have someone you trust carry or store a spare set of keys for you. Consider alternative entry options if you've locked your keys into your car.
That way, you won't face the sticker shock that often comes with a complete smart key replacement.